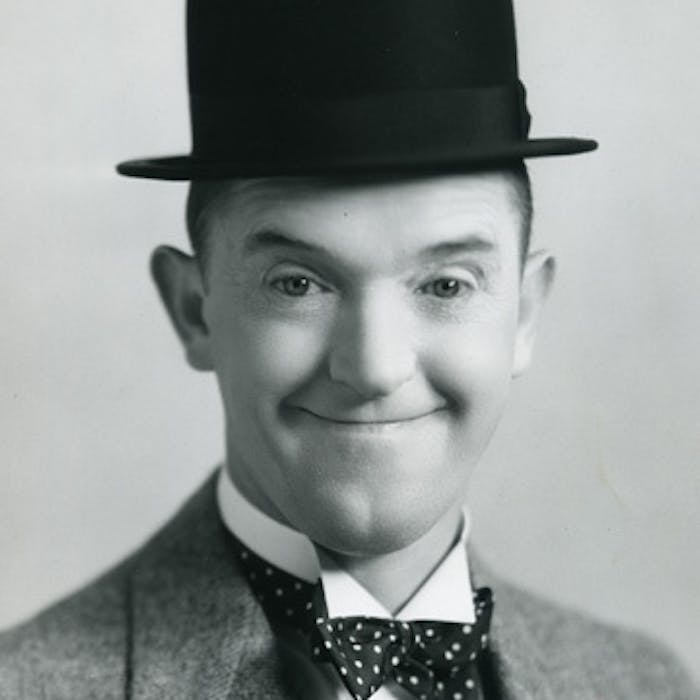 Stan Laurel: the Lancastrian half of a famous duo
Stan Laurel, the 'skinny one' of the famous Laurel and Hardy comic duo, who appeared in films of the 1920s and 30s, was an English comic actor, writer, and film director born in Ulverston, Lancashire. He went to America in 1910, and was based there for the rest of his life.
Laurel and his partner Oliver Hardy were two of the rare individuals who made a successful transition from the early silent movies to talking pictures.
Stan Laurel was the son of a theatre manager and an actress, and began his career on stage as a teenager in Scotland, eventually joining a troupe of British music hall actors that included a young Charlie Chaplin. They toured the United States, but Laurel decided to stay, and headed to Hollywood, making his film debut in the 1917 silent short Nuts in May.
By 1927 Laurel was increasingly working with American Oliver Hardy whilst under contract to Hal Roach Studios. The two became friends and their comic chemistry soon became obvious.
Together, the two men began producing a huge body of short films, and later successfully made the transition to talking pictures with the short Unaccustomed As We Are in 1929.
Laurel and Hardy toured England in 1947, appearing in variety shows for six weeks, and were mobbed by fans everywhere they went. The tour included a Royal Variety Performance in front of King George VI and Queen Elizabeth in London. The success of the tour led them to spend the next seven years touring the UK and Europe.
Laurel appeared exclusively with Hardy until retiring following his comedy partner's death in August 1957. Laurel was too ill to attend the funeral and friends said that he was so devastated by Hardy's death that he never fully recovered from the grief. He refused to perform on stage or act in another film without his friend, although he continued to socialise with his fans. His telephone number was in the directory and fans would phone Laurel for a chat. One of these was the young Dick Van Dyke.
Laurel was married four times, though the last marriage lasted nearly 20 years until his death in 1965. Before it he had quipped, 'If anyone at my funeral has a long face, I'll never speak to him again.'
There is a statue of Stan Laurel and Oliver Hardy in County Square, Ulverston, and a museum about them in the town.
Further reading
Links to external websites are not maintained by Six Things. They are provided to give users access to additional information. Six Things is not responsible for the content of these external websites.