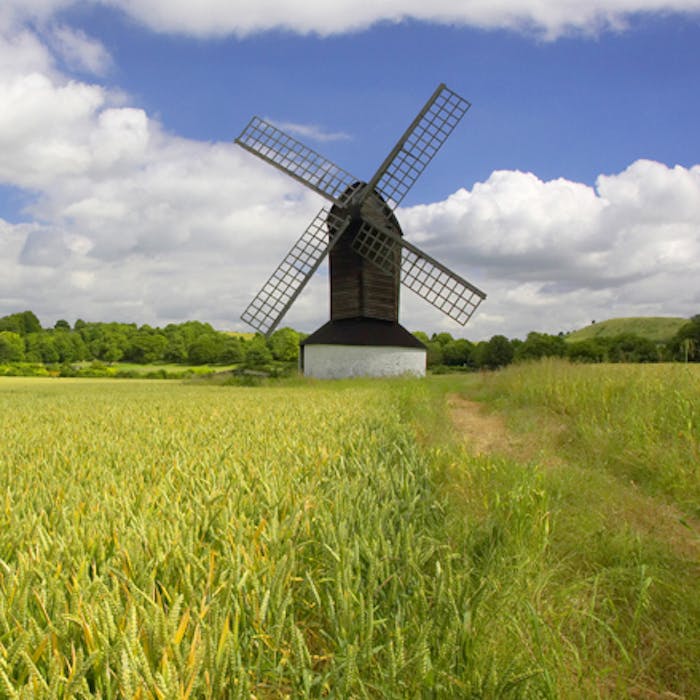 Pitstone, Britain's Oldest Windmill
In the north-east corner of a large field near the parish boundary of Ivinghoe and Pitstone in Buckinghamshire stands Pitstone Mill. It is thought to be the oldest surviving mill in the country, and belongs today to the National Trust.
According to an engraving on one of the mill's inner beams, the windmill dates back to 1627. It should be remembered that such a structure would have had to have frequent repairs made to it, so it is quite possible the mill predates 1627. It was dendrochronologically dated in 2004, when the oldest pieces of wood in the structure were found to be from trees felled in winter of 1595/96 and spring 1597.
For centuries, the windmill was used to mill grains into flour for the surrounding villages. In 1902, it was damaged beyond repair during a massive storm.
It stood derelict until the 1960s, when a group of local volunteers decided to restore the windmill to its former glory. It was returned to working order after 68 years. The landscape surrounding the windmill offers amazing views and unforgettable photo opportunities of the Buckinghamshire countryside.
Further reading
Links to external websites are not maintained by Six Things. They are provided to give users access to additional information. Six Things is not responsible for the content of these external websites.