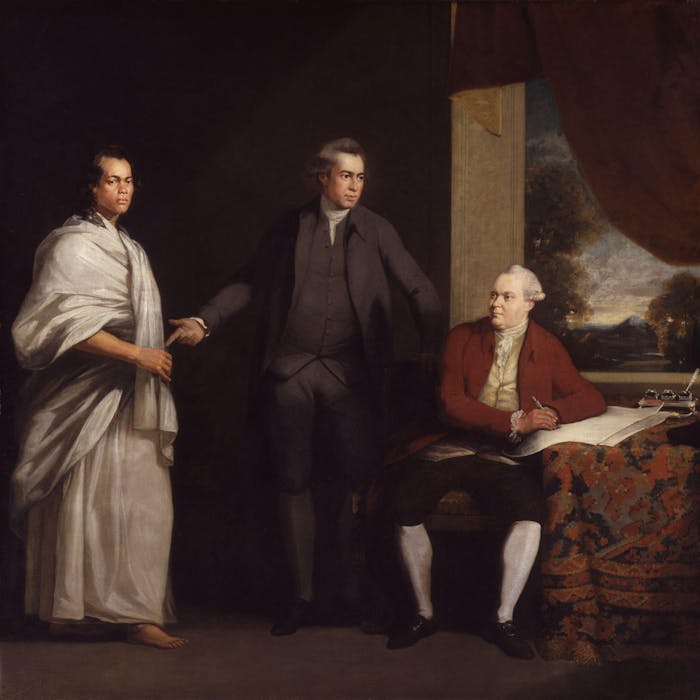 Omai - intrepid pioneer Tahitian 'explorer of England'
Omai, from Tahiti, was only the second Pacific Islander to come to Europe, and the first to visit England when he arrived in 1774. The adventurous young man came to know about this faraway part of the world through British explorers Captain James Cook and Joseph Banks, who had made an equivalent adventure to from Britain to his homeland, more than 10,000 miles away.
Mai (c.1751-1780) or Omai, as he was usually called by the English, was much feted within London high society for his charm, quick wit and exotic good looks. He had met Captain Cook in 1769 on his Pacific exploratory voyages on the Endeavour, and in 1773 he travelled back from Tahiti on the British ship HMS Adventure, arriving at London in October 1774. Here the young man was introduced into British society by the naturalist Sir Joseph Banks, who had travelled on Cook's first voyage to Tahiti, when the two men had previously met.
Omai spent two years in England, during which Banks regularly invited him to dine with the Royal Society, and arranged meetings with notable celebrities.
During one such meeting with King George III at Kew, Omai is said to have delivered his bow then grasped the King's hand, declaring, "How do, King Tosh!". He was painted by renowned portraitist Sir Joshua Reynolds, among many others.
There was some concern over the vulnerability of Polynesians to European diseases and Omai was one of the first to be experimentally inoculated against smallpox, with a newly developed, but expensive and risky treatment.
Omai returned to Tahiti with Cook's third voyage in 1776. During the Bounty's visit to Tahiti in 1789, Captain Bligh was told Omai had died about two and a half years after Cook's departure in November 1777.
The painting above shows Omai (left) with Sir Joseph Banks (centre) and the botanist Daniel Solander (right).
Further reading
Links to external websites are not maintained by Six Things. They are provided to give users access to additional information. Six Things is not responsible for the content of these external websites.