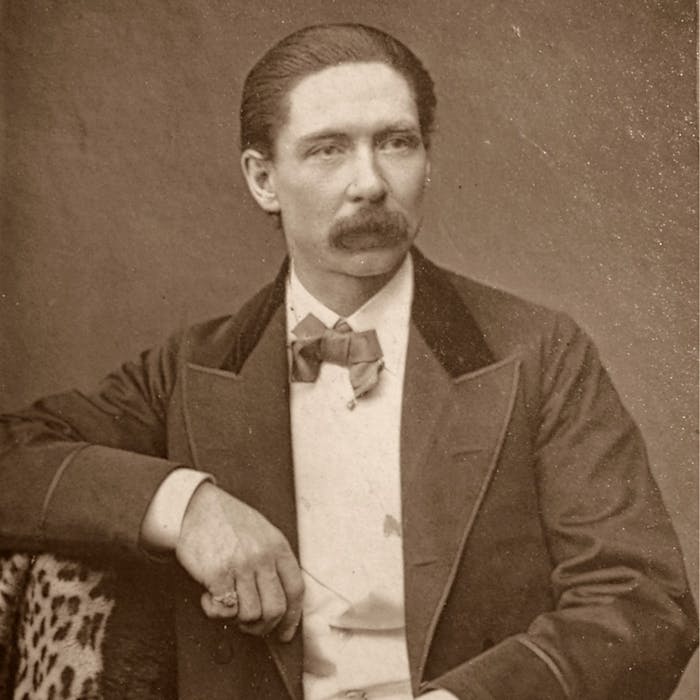 John Nevil Maskelyne - conjuring up illusions
John Nevil Maskelyne (1839 – 1917) was a stage magician, inventor, and scourge of fake mediums. As well as creating illusions and magical contraptions, he can lay claim to be the first man to 'spend a penny', having originated the coin-operated toilet cubicle.
Maskelyne became interested in conjuring after watching a stage performance in his hometown of Cheltenham by the fraudulent American spiritualists, the Davenport brothers. He figured out how the Davenports' 'spirit cabinet' illusion worked, and proclaimed to the audience in the theatre that he could recreate their act using no supernatural methods. With the help of a friend, cabinet maker George Alfred Cooke, he built a version of the gigantic cabinet. Together, they revealed the Davenport Brothers' trickery to the public at a show in Cheltenham in June 1865, sponsored by the 10th Cotswold Rifle Corps to which they belonged. In addition to a take on the pseudo-spiritualist phenomena of the Davenports, Maskelyne and Cook added comedy illusions. Inspired by the acclaim they received for their clever exposure of the deception, the two men repeated their show several times.
The pair went onto to become professional stage magicians, and invented many illusions that are still performed today. Maskelyne also wrote a very popular book explaining the methods of card cheats in detail. He became particularly interested in debunking the notion of supernatural powers, looking for rational explanations and exposing trickery.
In 1873 they presented their shows at the Egyptian Hall, Piccadilly, London, where they remained until 1904. Here they completely transformed the art of conjuring into a dramatic performance of wizardry and an entirely new concept in the performing arts, which earned the place the title of 'England's Home of Mystery'.
Maskelyne also invented the coin-operated public convenience, from which the euphemism "to spend a penny" originates.
Maskelyne claimed to be descended from the Astronomer Royal Nevil Maskelyne (a separate Six Things item), though this is disputed. His son Nevil and grandson Jasper both became magicians.
Further reading
Links to external websites are not maintained by Six Things. They are provided to give users access to additional information. Six Things is not responsible for the content of these external websites.