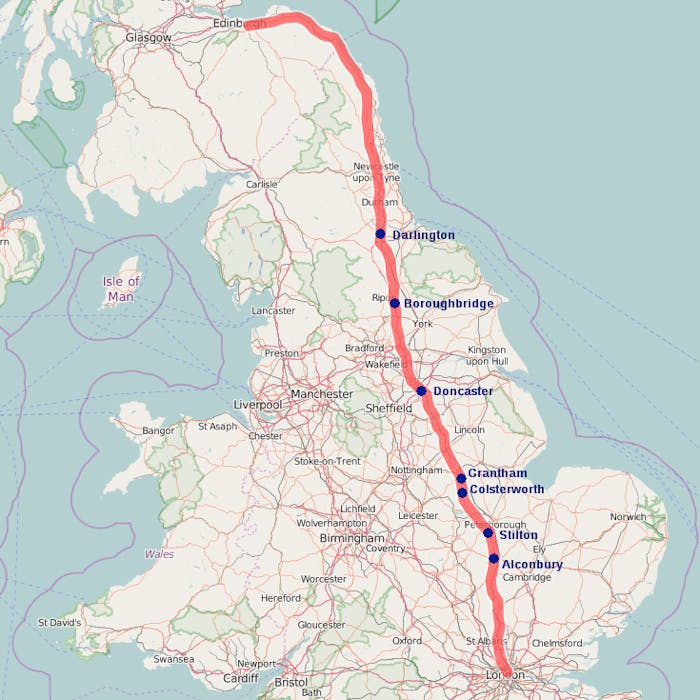 From London to Edinburgh - the A1, Britain's longest road
Britain's longest road, the A1, reflects the historic coaching route once used by mail coaches between London, York and Edinburgh. For much of its route the A1 follows various branches of what was then known as the Great North Road. The A1 is 410 miles (660km) long - making it the UK's longest numbered road, designated by the Ministry of Transport in 1921.
For centuries, the route of the future A1 was essentially a series of mud tracks. Its main purpose was to carry heavy stagecoach traffic, which began in the late 18th century - with many once-important and historic towns on the way still possessing the former coaching inns at which travellers stayed during their journey, and the horses were refreshed.
Until the 1920's, Britain's roads were not numbered, but then the Ministry of Transport set to work allocating numbers to them. The A1 got prime billing as it connects English and Scottish capitals. Other principal routes out of London were then numbered sequentially in a clockwise direction, A2, A3, A4, A5 and A6. The A7, A8 and A9 are similarly allocated to roads around Edinburgh.
Despite being renamed, little actually changed for quite a while - the A1 remaining effectively a collection of local roads, except where bypasses were developed to relieve traffic from the worst congestion points. Following the Second World War, as road traffic grew and supplanted the former dominant railways, the A1 became overloaded, and developed a reputation for excessive delays and accidents.
This was the prompt to construction of the motorway system of dedicated new roads in the most important corridors, and the first section of the M1 opened in 1959, following a rather different alignment to the original A1. As long distance traffic increased, the A1 itself was given an upgrade to motorway standard, with parts of it known as the A1 (M).
Though not as celebrated as some roads, like the American Route 66, there has been some cultural recognition of the A1, including the book written by Nigel Richardson, and illustrated by Jon Nicholson's photographs, recording their travel along Britain's oldest and longest highway, and acknowledging its culture, history and terrain.
Further reading
Links to external websites are not maintained by Six Things. They are provided to give users access to additional information. Six Things is not responsible for the content of these external websites.